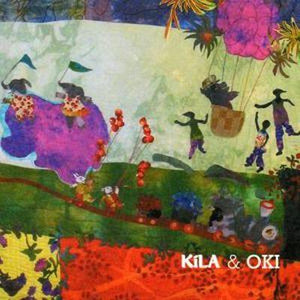 Kíla Online Shop
Kila & Oki
Regular price
Sale price
$17.00
Tax included.
---
Catalogue Number: KRCD011
Year of Release: 2006
Produced; Karl Odlum, Kíla & Oki
Engineered; Karl Odlum
Recorded; Pickering Forest, Victoria Studios
Musicians; Colm Ó Snodaigh, Rónán Ó Snodaigh, Rossa Ó Snodaigh, Eoin Dillon, Dee Armstrong, Brian Hogan, Lance Hogan, Oki
Guest Musicians;
Karl Odlum
Tracks
Topattumi – 6.30
Gáire na bPáistí/Our Children are Laughing – 2.39
Kai Kai As To – 6.17
Ní Liom Féin – 5.47
Oroho Raha (Mokoro Mokoro) – 5.19
hAon Dó – 4.22
Kent Hakka Tuftse – 3.34
Last Mile Home – 5.31
Press Quotes;
'a work of profound beauty'  Ruth Ní Challaráin, Foinse
'an unexpected collaboration that works.' Robin Denselow, The Guardian
'a funky, melodious journey between these two rich traditions…altogether a sumptuous, lilting and uplifting experience.' The Dubliner
"Surely Kila is the only contemporary trad outfit worth talking about.the record jumps with energy" Sunday Tribune - 4/5
"a fascinating collaboration, an epic grandeur: unfolding in slow ebbs, the music approaches the poise and elegance of classic composition" Metro - Album of the Week 4/5
Band Quotes;
kíla loves monkey magic, japanese tv drama.
rónán is a monkey.
look at how he play bodhrán.
monkey magic.
when kíla came japan
dun ainu band backed rónán.
when i was in ireland rónán said
'oki what is the name of your bass player
i think he is a fuckin great bass player!'
i ask how do like play.
rónán think little bit and say
'yeah, he is a monkey!'
different culture, far away from my
isand HOKKAIDO
land of my people, AINU LAND.
we play music together.
this is life,
roots and culture.
i love music.
i love kíla.
OKI
Youtube clips;
Reviews;
Eelco Schilder - Folkworld.de
Articles
Photos;
Trivia;
The song 'Ní Liom Féin' has been used a sig tune for the radio station, Newstalk 106Fm's cutting egde, Irish language, friday night arts and politics show, Splanc. 
This album was the first time that producer, Karl Odlum had worked with Kíla since he left in 1993 to join the Mary Janes.
A version of Tóg é go Bog é was released as a single in 2006 along with a remix version of it by Japanese DJ Sakana. The cover was a wonderful collage by Dublin artist, Ribó. The song also appeared on the Ceol '06 charity compilation.
Colm wrote about the trip to Hokkaido with Oki and published the articles in his book Istigh sa Cheol - In the Music
Previews of the tracks can be heard by following the link below.