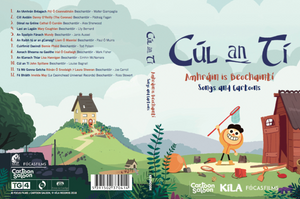 Kíla Online Shop
Cúl an Tí
Regular price
Sale price
$17.00
Tax included.
---
Title: Cúl an Tí

Format: DVD
Label:  Kíla Records/Fócas Films/Cartoon Saloon
Catalogue Number: KRDVD004
Region Code: 0
PAL
Description: Cúl An Tí, is collaboration between Kíla, Cartoon Saloon, Fócas Films and some of Ireland's top singers (Mundy, Imelda May, Liam Ó Maonlaí, Mary Coughlan, Lisa Hannigan, Danny O'Reilly of The Coronas, John Spillane & more) to produce one of the finest pieces of Irish music and art in a decade.
Fócas Films producer, Éamon Ó Cualáin, brought these artists together to reinvigorate some old Irish songs by recording new versions and having animations made of them. He feared that our traditional songs were being made redundant by the digital age and that Irish children were only learning songs they listened to online. 
Cúl An Tí was originally broadcast as a 6-episode series on TG4 where presenter Pól Ó Ceannabháin travelled to schools around Ireland and school children were introduced to the songs and the visual ideas sought by the animators. A second series is now in the pre production stages.  
The DVD is an invaluable tool for teachers and parents alike, containing a printable lyric sheet, translation sheet and the option of viewing the lyrics as karaoke style subtitles. If the beauty of the animations, singing performances and music alone isn't enough to inspire children to learn the lyrics, this DVD will certainly make it a lot easier.
The 12 songs and accompanying animations are a jewel for lovers of music and animation. 
Cur Síos: Is é Cúl an Tí ná comhoibriú idir Kíla, Cartoon Saloon, Fócas Films agus cuid de na príomh-amhránaithe in Éirinn (Mundy, Imelda May, Liam Ó Maonlaí, Mary Coughlan, Lisa Hannigan, Danny O'Reilly of The Coronas, John Spillane & more) chun cheann de na píosaí is fearr de cheol agus ealaín na hÉireann i ndeich mbliana a chur amach. 
Thug Éamon Ó Cualáin, léiritheoir Fócas Films, na healaíontóirí seo le chéile chun sean-amhráin Ghaeilge a athbhunú trí leaganacha nua a thaifeadadh agus beochaintí a dhéanamh díobh. Bhí eagla air go raibh na hamhráin traidisiúnta á chailliúint toisc an aois dhigiteach agus nach raibh ach amhráin a bhfuil ar fáil ar líne á fhoghlaim ag leanaí Éireannacha.
Craoladh Cúl an Tí ar dtús mar shraith ar TG4 inar imigh an craoltóir Pól Ó Ceannabháin chuig scoileanna timpeall na hÉireann agus tugadh isteach leanaí scoile ar na hamhráin agus na smaointe a bhí á lorg na beochantóirí. Tá obair tosaithe ar an dara sraith. 
Is uirlis luachmhar é an DVD do mhúinteoirí agus do thuismitheoirí araon, ina bhfuil bileog lyric inphriontáilte, bileog aistriúcháin agus an rogha féachaint ar na liricí mar fhotheidil i stíl karaoke. Más rud é nach bhfuil áilleacht na beochana, na seinnteoirí amhránaíochta agus an cheoil féin go leor chun leanaí a spreagadh chun na liricí a fhoghlaim, cinnteoidh an DVD seo go mbeidh sé i bhfad níos éasca é a dhéanamh.
Is rud alainn iad na 12 amhráin agus beochaintí dóibh siúd a bhfuil grá acu don cheol agus don bheocht.